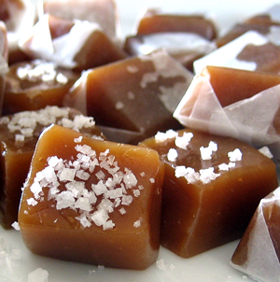 Picture taken from the nibble
Lets just say these honey caramels are so good I have been paid to make them.   Something about the salt granules mixed with the sweet honey makes these caramel out of this world.  Make sure that the salt you use is the bigger granules.
The trick to making this honey caramel something special is to use good honey. Did you know that depending on where bees pollinate the honey tastes completely different. We had bee hives, until a mouse got in and ruined the hives. During our bee keeping stint we got a really nice honey extractor which we rent out every year. Part of the rental fee is giving us a jar of honey. I have tried honey from all over the state and their is a marked difference in flavor and texture between the different honey's. I am going to be biased here and say that the honey from our hives is still my absolute favorite. We had them in an orchard and it has a really light flavor. Point being look for a good tasting honey. I am sure it would still turn out with any old honey but to make it over the top choose a good one.
Don't be intimidated if you haven't ever made candy before. All you do is put all of the ingredients in the pan let it get nice and hot, stir it and watch the thermometer like a hawk, so that it doesn't go over the temp. That's it!
A couple of quick notes I learned from a candy maker:
Don't ever scrape the pan while you are transferring the caramel goo to a pan because it makes the caramels grainy. Just let it drip out, and then scrape the excess onto a parchment paper.  (I am not sure if this is true or not, but I always do it and haven't had grainy results).
This is an antique recipe, written in a Puerto Rican village from the 1940's.
Salted Honey Caramels
1/4 C unsalted butter cut into pieces
1 C honey (mild honey works best here)
1 C raw sugar
1/2 C heavy cream
1/2 tsp vanilla
Fluer de sal,  (I just use kosher salt, the salt that has bigger granules)
Grease generously an 8×8 pan.  Or use a silicone pan it makes it so much easier to get them out.
 Melt the butter over medium heat in a heavy bottom sauce pan.
 Add the sugar, cream, and honey stir over medium heat until the sugar has dissolved.
Cook the mixture over medium heat, stirring occasionally until the mixture reaches firm ball stage, or 245 degrees on your candy thermometer.
Immediately remove from heat, quickly stir in the vanilla (it will bubble slightly) and pour the mixture into your greased pan.  Sprinkle with sea salt.
Let cool, take it out of the pan and cut into squares.  Wrap in parchment paper or cellophane candy wrappers.