I have been really busy working on  a few new fun projects, stay tuned for updates.  One of them is my Facebook fan page.  It isn't completely done yet,  I will announce it on the blog when it is. But be sure to watch for it because when the fan page is done I am going to do a really fun giveaway.
So instead of a new recipe I left with you a few ideas for Valentines from around the web, they look really good.  I haven't tried any of them yet except for the ones from Unconventional Kitchen, but I am anxious to pick one to make  for Valentines.
Leave a comment below of what you plan to make for Valentines, I would love your great ideas!  Even better if you do a post on your blog provide all of us a link so we can get even more lovely real food treat ideas!
Valentine Treats
Cutest idea to make heart fruit pops, so simple and so fun.
Triple Chocolate Cookies from Elana's Pantry, gluten free.  She bakes primarily with almond flour, a bit pricey but really good, and you just need one flour not three or four to make a good gluten free baked good.
 Gluten Free Molten Lava Cakes these little beauties are so fast and hit the chocolate spot.  I am kind of seeing a theme here of lots of chocolate  More chocolate, this time in little truffle bites.
What is not to love about the way she packaged these dark  chocolate cherry truffles, and the cherries give it such a fun red color.  I think they would be just as good without the red food coloring.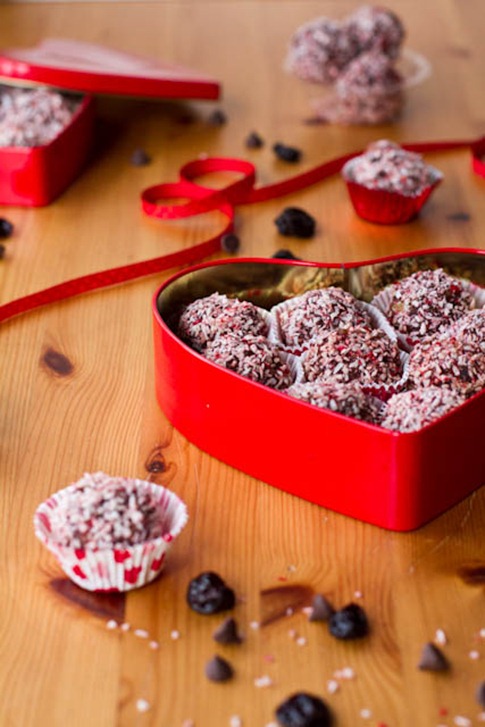 The most amazing fudge, and just three ingredients.   Again more chocolate, this one is a must try, so fast and so GOOD!!  Sorry no pic the link is a video teaching you how to make it.
Last idea, o.k this one is not chocolate, but it has my favorite food groups bananas and peanut butter.  These are worth getting up a couple of minutes before to surprise your favorite person, whoever that might be with these little beauties.